The world is opening up again – but so much has changed. Since late last year I've been delivering a powerful 90-minute keynote, "RE-IGNITE", which lays the foundations for CEOs and Executive teams to have the often difficult and sensitive conversation with their people about what a post covid working environment looks like, in a high performance environment.
With Australian workplaces starting to open back up, there are so many questions about what the future holds.
The people I'm talking to are experiencing some deserved nerves about this, nerves about coming back into the office.
Following two years of disruption to our organisational norm. Now is the time to re-ignite your organisations connection to purpose, re-engaging your people, and re-aligning their performance expectations and commitment to an organisation's culture.
The RE-IGNITE model explores four significant quadrants – which I work through in more detail in my keynote.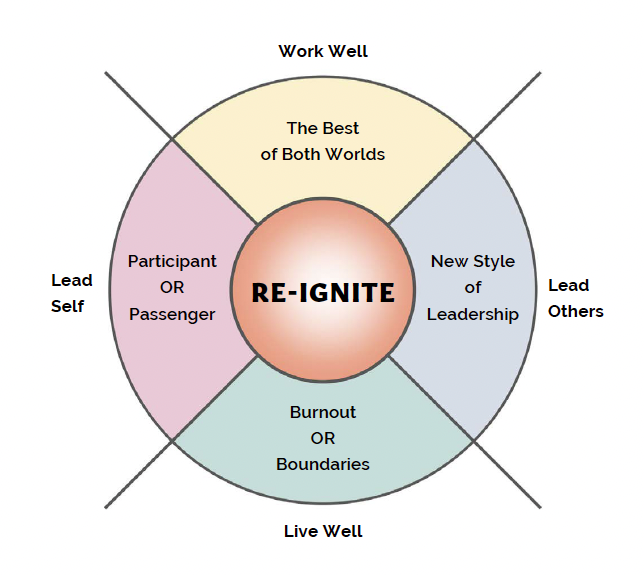 In my keynote I will challenge your people to
discuss the new hybrid work paradigm – giving leaders the opportunity to detail their own organisational framework for expectations moving forward
provide insight into new styles of leadership that enable and inspire people
explore resetting boundaries to maintain positive work / life integration
take ownership and control of their own career trajectory – fully leveraging their strengths in service of the organisation's purpose.
If this sounds like something you think your organisation could benefit from, I am running a FREE online workshop at 11am-12noon on 23 February, 2022 – to explore the keynote in more detail, and give business leaders like you an opportunity similarly explore how it could help open up the dialogue in your workplace.
FREE online information session "RE-IGNITE"
Date:                          23 February 2022
Time:                          11am -12noon presentation
Register for my FREE online Re-IGNITE event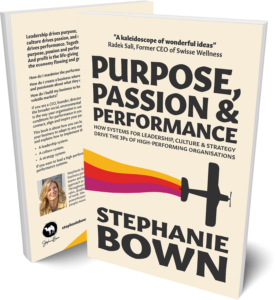 Everyone who attends will receive a signed copy of Stephanie's book:
Purpose, Passion & Performance: how systems for leadership, culture and strategy drive the 3Ps of high performing organisations.
Register for my FREE online Re-IGNITE event