Culture drives engagement and ignites passion for your purpose. High-performance companies prioritise culture by putting their people first and building their businesses around talent. 
Human Synergistics, a global organisation providing research and measurement tools for culture and leadership, defines culture as 'the shared values, norms and expectations that govern the way people approach their work and interact with each other'. 
Their research shows that when there exists a high degree of alignment between your 'ideal culture' (your espoused values and beliefs) and your 'actual culture' (the experience employees have every day) there are strong outcomes at the individual, team and organisation levels. That is, people are more engaged, demonstrate better teamwork, and deliver better quality outcomes than organisations that do not live their espoused values. 
I've worked for two values-based organisations – Nous Group and Swisse Wellness – both recognised and awarded Employers of Choice. The employee experience in these organisations was exceptional. In these organisations; the company's core purpose and values were authentic – they clearly drove the decision making and actions of the company's leaders. These companies consciously designed their processes for dealing with people in ways that ensured they lived their values at every employee touchpoint from the initial recruitment phase right through to the exit experience. 
The Culture System is your process for ensuring there is a high degree of alignment between your espoused values and your lived values in the service of shared purpose.
The Culture System involves the creation and communication of: 
your purpose beyond profit – how you add value to all stakeholders of your business 

your values and behaviours – how you

behave

in the pursuit of your purpose or company mission 

a Culture Plan that clearly communicates how you live your values at each stage of the employee lifecycle.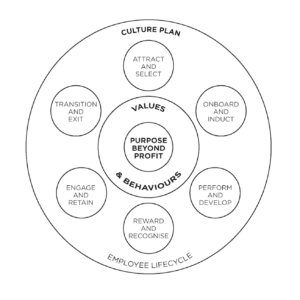 Implementing The Culture System will ensure that you live and honour your values and maintain the engagement and wellbeing of your people, resulting in increased capacity for high performance.