There's something really beautiful, even joyful, about a team of people finding their performance flow.
We see it watching an orchestra, a ballet, a live band, a game of elite football, chefs at service at a 3-hatted restaurant, or even an emergency response team.
In this White Paper Stephanie Bown discusses her systems of leadership which underpin high performing teams and individuals:
SET STANDARDS to inspire high performance and connect people to purpose
NORMALISE FEEDBACK to create safety and a focus on results
COACH STRENGTHS to develop capabilities and leverage natural talents 
Leading High Performing Teams: How to transform team performance from simply functioning to fully flourishing in the new era".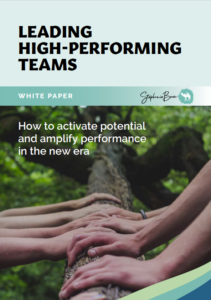 DOWNLOAD FREE: Leading High Performing Teams Whitepaper – Stephanie Bown