A guide to creating
high-performance system for
high-performance teams
Explore Stephanie Bown's systematic approach to high-performance, where systems create habits, which create results.
Awarded top-three Leadership books published in Australia in the 2021 Australian Business Book Awards,  Stephanie is an internationally recognised author, conference speaker and  performance specialist, with clients across her native Australia, as well as Europe and The Middle East. Stephanie's life-long obsession with performance and helping individuals, teams and organisations operate at their performance edge, was the catalyst for this book.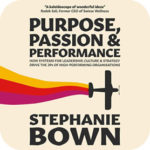 Buy (or try for free for 30 days) as an audio book
Audible
Download FREE Chapter here