Over the next 4 months (September – December) I will be running a series of FREE online and in-person keynote events for CEOs, Directors and C-suite executives, sharing the disciplines of exceptional leaders and giving insight to the systems of leadership, culture and strategy – that Inspire High Performance.
High Performance Leaders inspire high performance teams by activating latent potential and connecting people to purpose – their purpose in the organisation and the organisation's purpose in the market.
As part of my business network I'd like to personally invite you to join me and special guest speakers for one the following keynote events. I will be running two online events – so please feel free to book into the date that suits you best.
For Brisbane-based leaders I will be running an in-person breakfast event in October at The Calile – so come and join me and my very special guest speaker, David Trewern – Serial Entrepreneur and Founder of hydrofoil surfboard company Fliteboard.
INSPIRE HIGH PERFORMANCE
FREE KEYNOTE EVENTS FOR BUSINESS LEADERS
September – online event:
Date:                               Wednesday 8 September 2021
Time:                               1.30pm-2.30pm
Guest Speaker:               Ainslie van Onselen, Chief Executive Officer, Chartered Accountants Australia and New Zealand
Register now for September Online Event
Brisbane Business Leaders – breakfast event (POSTPONED)
Date:                                13 October 2021
Time:                                7am for 7.30am presentation, followed by networking 8.30-8.45am
Venue:                              The Calile, 48 James St, Fortitude Valley
Guest Speaker:                David Trewern, Innovator, Entrepreneur, Founder of hydrofoil surfboard company Fliteboard
We regret to advise this our Brisbane event has been postponed due to border closures and we will be excited to announce a new date in the New Year.
December – online event:
Date:                                 8 December 2021
Time:                                 1.30pm-2.30pm online presentation
Register now for November Online Event
Hope to see you at one of my keynote events.
Warmest
Stephanie Bown
Register now and receive a signed copy of my book: Purpose, Passion & Performance: how systems for leadership, culture and strategy drive the 3Ps of high performing organisations.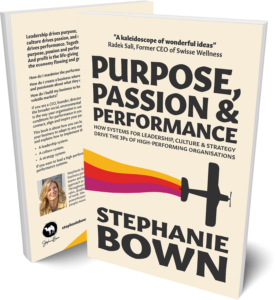 What people are saying about my book Purpose, Passion and Performance.
"A kaleidoscope of wonderful ideas, Purpose, Passion and Performance is an easy read and moves at a pace that enables you to really think about each insight and its relevance to your business. The delivery is measured and considered, giving you the opportunity to implement learnings and integrate them into your existing practices.
"Whether you are an aspiring or recently appointed CEO, or a seasoned veteran honing your skillset, this book will give you the tools to implement high-performance systems within your own organisation."
Radek Sali
Chairman of Light Warrior Group & Lightfolk Foundation (Former CEO of Swisse Wellness)
"High performance is one of those catch phrases that every organisation aspires to but is so hard to get a firm grip on. Steph's book 'Purpose, passion & performance' lowers the veil on where success comes from. Her ability to simplify the complex and make it achievable for every business (or individual) makes this a must read for anyone with a desire for building a high performance teams.
Sam Mitchell
Hawthorn FC Senior Coach elect (2022), 4x AFL Premiership Player (Hawthorn FC), Brownlow Medallist (2012), 3x All Australian,