As we all move from feeling safe to feeling vulnerable in this time of crisis, it's important that we don't shift into reckless leadership or reckless decision making.
I don't know about you – but I feel like the ground has disappeared.
As each planned project, workshop and coaching session have evaporated from my calendar (understandably – I hold no grudges), I've moved through the emotions of denial, anger, sadness, and finally acceptance. Then I hear a fresh batch of horrors (worldwide death toll surpassing 12,000 on Saturday) and absurdities (still no loo roll available anywhere) I go through the grief cycle all over again.
Why is COVID-19 hitting us so hard?
It is because right now, every single one of us feels vulnerable. COVID-19 doesn't discriminate between rich and poor, young and old, well or unwell, believers or non-believers, black or white. Yes, there are varying degrees of vulnerability, but the fact is, we are all at risk – none of us are safe.
What's worse, is that the very behaviour that typically keeps us safe from the mental and emotional toll of illness – physical human connection – is the thing we most need to avoid. Social isolation and social distancing are not terms that build confidence and inspire hope.
In any given time in crisis, we are experiencing one of three states. We are either feeling safe, vulnerable, or reckless; and these three states exist as three concentric circles.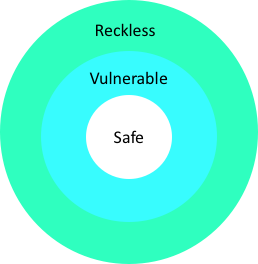 The inner circle is our Safe state – we've adapted to our environment and re-calibrated our needs. In this space, we feel comfortable and we create safety for people around us.
The middle circle is Vulnerable – we feel unsafe, uncertain and exposed, yet continue to manage our own emotions and the emotions of others. We are proactively working to adapt to our environment.
The outer circle is Reckless – we've given over to fear and let our emotions run away from us like a pack of wild horses. We are reacting to, instead of working with, our environmental conditions.
Safety ended when COVID-19 crossed our shores. Safety right now is not absolute for anyone.
So, to learn how to cope with vulnerability we are all being called to leadership. Leading ourselves and leading others is accepting that fact that we are all vulnerable and doing what's required to be ok with it, or to create safety. We lean into vulnerability and create safety by choosing a constructive response.
The constructive response looks like:
Putting health and safety first
Re-calibrating goals and priorities
Staying calm
Staying connected
Planning contingencies
Communicating regularly
Finding new opportunities
Finding new ways of doing regular work
Recklessness is choosing a defensive response. The defensive response has lots of colours and guises, but commonly looks like;
Hoarding
Racial discrimination
Worrying
Denying
Attacking
Labelling
Seen any of this lately? Enough said.
The keyword here is choice. We all have a choice in every moment to choose between a constructive and defensive response. Leadership is being aware of that choice and doing the work required to stay in that choice.
So how are CEOs around the world coping with vulnerability and making constructive choices?
Last week, the YPO (Young Presidents Organisation) shared their results of a survey conducted with global CEOs on the 9th of March on the business impact of COVID-19. While much has continued to change in the short weeks since then, the results are indicative of how leaders are responding to this crisis and give us all a benchmark to work towards.
While almost 82% of the 2,750 CEOs surveyed expected declines in revenues over the next six months, more than half (54%) remained optimistic, expecting revenues to remain the same, if not better in 12 months' time. In addition, 70% expect their total number of employees to remain the same by this time next year, indicating that most CEOs are working towards keeping their existing workforce in place through this crisis.
Most (95%) leaders reported taking action of some kind. These actions have included:
Providing regular updates to employees (68%)
Implementing new health and safety procedures (67%)
Cancelled major events (64%)
Halted company business travel (53%)
Reduced costs (39%)
Shifted short-term goals (32%)
Implemented remote working for all employees (28%)
Researched ways to innovate (28%)
Stopped recruiting (22%)
One of my clients summed it up perfectly;
"We run pretty lean already. We're going to need all these talented people when the economy bounces back. We're scenario planning for all contingencies now and have our lines of credit on hand if we need them".
Level head. Contingency planning. Putting people first.
So how are you leading yourself and others through vulnerability? If you're a CEO or senior leader – how are you creating safety for yourself and your team?
~~~~~~~~~~~~~
FREE WEBINAR
Join me for a free webinar this Friday, to discuss how business leaders are working through this time of crisis, operating in the 'vulnerable' and avoiding the 'reckless'. I will present a range of learnings and case studies, helping to sharpen our collective and personal focus on how to navigate your business and your people through this time of need.
Register HERE for the free webinar; 
Friday 27th March, 10am-10.45am Eastern Daylight Savings Time.