There's a great big misunderstanding about human performance and I want to clear it up. 
Sometimes we think that we don't want to be challenged, stretched or pushed in our jobs, homes and schools. Sometimes we think that we just want things to be easy, simple and straightforward. 
That's just not true, and here's why.
Living a life of full engagement is living at our performance edge. 
Our performance edge is where capacity meets challenge; where performance meets potential.
Like camping on the edge of a mountain, our performance edge is uncomfortable, yet exhilarating. It's challenging, yet gratifying. It's where we measure our character and put our strengths to work. It's where we discover who we are, what we are and why we are. 
The following diagram is my adapted version of the classic Flow Model, first presented by Mihaly Csikszentmihalyi (pronounced 'cheeks-a-men-i-hi') – with a few tweaks. 
Finding the performance edge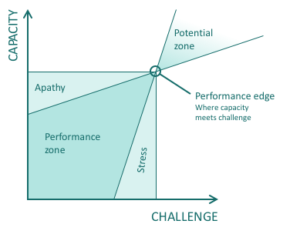 Csikszentmihalyi introduced the concept of flow as a mental state of operation in which a person, if fully absorbed in an activity that requires both skill and challenge. In flow, we are lost in the moment. We forget about time. We forget everything except the task we are actively engaged in performing. People find flow in activities such as playing a musical instrument, designing a new concept, writing code, performing intricate surgery, cooking, painting, or any other activity that requires effort and focus. 
So let me explain the other elements of this model: 
Capacity – encompasses the full range of internal resources available to us, including mental, emotional, physical and spiritual resources
Challenge – is the difficulty level we apply ourselves to. We increase challenge by increasing complexity of task or scope of responsibility.
Challenge and capacity go hand in hand – as we increase our capacity, we are able to take on more challenging work. And as we take on more challenging work, our capacity increases. They feed each other, fostering a continuous cycle of performance and development. 
The performance zone is where we're comfortably challenged; performing a skill or doing work that we are familiar with, find stimulating, and for which we are actively using our strengths and talents.
The apathy zone is where capacity outweighs challenge. We have adapted to the change, mastered the role, the project, the new KPI; and it is no longer challenging. This zone causes energy depletion. Like muscles not being used, our capacity starts to atrophy. If you don't use it – you lose it! 
The stress zone is where challenge outweighs capacity. We are pushed past our current capacity and must overdraw on internal energy reserves. Working in this state for short bursts is necessary when we are learning new tasks or taking on challenges with greater complexity. But extended periods of stress also puts us in a depleted state; increasing risks to our health and wellbeing. If you're experiencing sustained stress or overwhelm – you need to either turn down the challenge dial or increase capacity by investing in your own skills or refuelling your energy reserves. 
The potential zone is the place where learning and growth happen. Our potential zone is latent talent that has not yet been realised. I like to think about potential as connections in your brain that haven't happened yet. Realising potential means putting your natural strengths and capabilities to work in new ways and strengthening brain interconnectivity.
Living at our performance edge is a dynamic process of learning that takes place at the individual, team and organisational level. The challenge for leaders and change makers is helping individuals and teams to discover their performance edge and safely hold them there. If we up the challenge without investing in people's capacity to cope, we push them into the stress zone. But if we don't up the challenge and let people stagnate, we risk losing them from apathy and boredom.  
Keeping people and teams engaged is a constant process of setting new benchmarks for performance and inspiring people to leverage their strengths in the pursuit of shared purpose.