Culture has always been an important business driver. Now, as many businesses evolve into mass adoption of hybrid working styles, where we can no longer lean as heavily into the office 'vibe' to create it, culture is a key discussion point on every executive agenda.
The global executive team of a Denmark based BioTech company that I'm working with understand this. They place a high value on their culture – they know that innovation and an entrepreneurial spirit is key to their success.
Through their current rapid growth phase, their goal is to amplify culture – the turn up the dial on their core drivers of success.
To do this, they've committed to systematic measurement of both their leaders and their culture to inform strategic initiatives that develop leadership capability and support their people through growth. They've recognised that it's not just what they do to support their people, it's how they do it. The initiatives to drive culture – such as great inductions, career development, succession planning – are just as important as the way leaders engage day to day.
Culture drives engagement and ignites passion for your purpose.
High-performance companies prioritise culture by putting their people first and building their businesses around talent.
You may have the world's greatest product and go-to-market strategy, but if you do not have a culture that emphasises constructive behaviour and healthy functioning of the human system, you will not have engaged employees and your business will not be enabled to sustain high performance.
What is Culture?
Human Synergistics, a global organisation providing research and measurement tools for culture and leadership, defines culture as:
'The shared values, norms and expectations that govern the way people approach their work and interact with each other'.
Their research shows that when there is a high degree of alignment between your 'ideal culture' (your espoused values and beliefs) and your 'actual culture' (the experience employees have every day) there are strong outcomes at the individual, team and organisation levels.
That is, people are more engaged, demonstrate better teamwork, and deliver better quality outcomes than organisations that do not live their espoused values.
How can culture be "managed"?
Culture is the result of two things:
How leaders lead – the degree to which they demonstrate the values in how they deal with people and do their work
The Employee Experience (EX) – how employees are treated at each stage of their employment lifecycle; from onboarding; to performance management; to reward and promotion.
So if you're working on a plan to amplify your culture – the important thing is to recognise that great perks, flexible workplace policies, access to learning and development opportunities – are all important, but they're only half the picture.
The way leaders lead – with each other, with their teams, even within themselves, is the other half of the equation.
A great culture plan encompasses both.
Need to take action?
If you're in Brisbane and you would like to amplify culture within your organisation, and to network with other great leaders, we invite CEO's, Directors and C-suite executives to join us for our upcoming breakfast event where Steph will share what it takes to drive engagement and sustain passion within your organisation.
Stephanie has worked with some of Australia's most successful CEO, Founders and Entrepreneurs – and has had a side-car view of some pretty amazing rides.
Event:                         Amplify Culture
Date:                          30 March 2022
Time:                          7am for 7.30am presentation, followed by networking 8.30-8.45am
Venue:                        Newstead Studios, 22 Ross St, Newstead, QLD
Register here for Amplify Culture
Enjoy coffee and light breakfast, and receive a signed copy of Stephanie's book:
Purpose, Passion & Performance: how systems for leadership, culture and strategy drive the 3Ps of high performing organisations.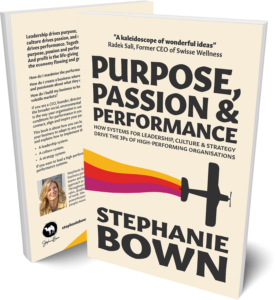 Learn what it takes to drive engagement and sustain passion
Do you have a set of company values that aren't being effectively lived or leveraged? 

Do you want to lead a passionate team of people in the pursuit of a shared and meaningful purpose? 

Do you want to be in the top quartile of employers?
Yes? Then it's time to think about your culture.
Culture drives engagement and ignites passion for your purpose. 
In businesses with lots of passion, people really care about what they do; and this is felt by the customer. Passion is a positive, inspiring force, that motivates people to sustain momentum, even when things get difficult (which they inevitably, invariably do). 
Passionate people are engaged people; and engagement is proven to drive results. 
Gallup's recent meta-analysis revealed that those in the top quartile of engagement delivered 20% higher sales and 21% higher profitability than those in the bottom quartile of engagement. 
And yet – passionate, engaged people are the exception, not the rule, because still, after 50 years of Gallup research, 85% of employees worldwide are not engaged or are actively disengaged at work. 
At this event, you will: 
Understand how culture impacts measurable and tangible results 

Learn how the world's best performing companies create extraordinary cultures 

Decode

The Culture System

– the process for living your values to maintain the engagement and wellbeing of your people.
Register here for Amplify Culture